Parade of Scholars
As an LCCC supporter, have you ever wondered where your gift went? If you really made a difference?  Scholars, have you ever wanted to thank the person who helped you on your way and encourage them to continue to help other students?
These are the questions that prompted the Lorain County Community College Foundation to host our Annual Parade of Scholars event. This intimate event brings our scholarship supporters and scholars together for an evening of dinner, celebration and conversation.  Our staff takes great care to bring those who contributed to a scholarship fund together with the scholars and their families who received awards from that fund.
For our scholarship donors, this is an opportunity to learn about the lives you have touched with your gift!
For our scholars, it is a chance to say thank you – and meet people that believe in you and have helped bring you one step closer to your dream career.
The 2018 Parade of Scholars event will be held on October 24. Please contact the LCCC Foundation at (440) 366-4039 if you would like more information.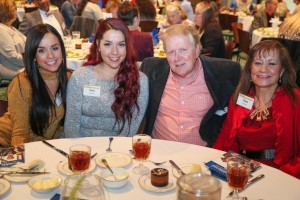 Stay In the Know with the LCCC President's Blog
Read the latest President's Blog by LCCC President, Dr. Marcia Ballinger and follow her on Twitter @PresBallinger.