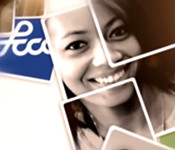 POINT OF VIEW
See how your gifts make a difference at our Annual Parade of Scholars event.
FEATURED FOUNDATION NEWS
Scholarship Support Committed for FY 2016
The LCCC Foundation made nearly $630,000 available for scholarships to LCCC students for the 2015/2016 academic year.
Read more >>
Stay In the Know with the LCCC President's Blog
Read the latest President's Blog by LCCC President, Dr. Marcia Ballinger and follow her on Twitter @PresBallinger.