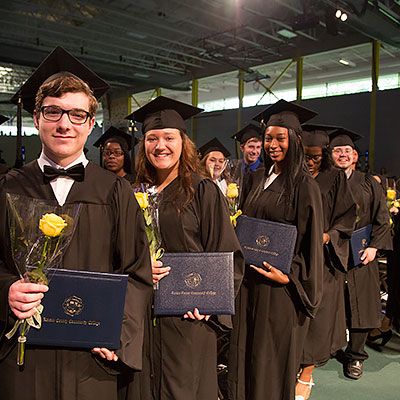 Scholarships
Lorain County Community College (LCCC) students come from different backgrounds and experiences, but all are striving to achieve the same goal – a better future for themselves and their families. Whether they are beginning their first college semester after graduating high school or returning to pursue a new career later in life, each student is unique and adds to the diversity of the community college experience.
The Class of 2020 was the largest graduating class in the history of LCCC with 2,510 associate degrees and certificates earned by 1,918 graduates and 260 University Partnership (UP) graduates.  This also included 125 high school students who graduated with both a high school diploma and an associate degree.
Nearly a quarter of these graduates could not have achieved these goals without the help of our donors, who continue to support higher education through scholarships.  These students persevered though an unprecedented time, reaching their academic goals - leading them to a brighter future.  
Contact Lisa DeVito, Development Officer, at  ldevito@lorainccc.edu  to learn more.