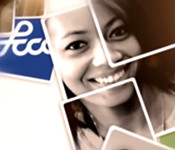 POINT OF VIEW
See how your gifts make a difference at our Annual Parade of Scholars event.
FEATURED FOUNDATION NEWS
Scholarship Support Committed for FY 2016
The LCCC Foundation made nearly $630,000 available for scholarships to LCCC students for the 2015/2016 academic year.
Read more >>
Serving LCCC Since 1973
The Lorain County Community College Foundation, a separately incorporated non-profit, is a direct support organization for LCCC and was established in 1973. The Foundation assembles resources to accelerate LCCC's mission and vision. This support creates a "margin of excellence" for LCCC that is not possible through traditional revenue sources alone.