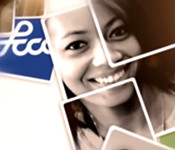 POINT OF VIEW
See how your gifts make a difference at our Annual Parade of Scholars event.
FEATURED FOUNDATION NEWS
Scholarship Support Committed for FY 2016
The LCCC Foundation made nearly $630,000 available for scholarships to LCCC students for the 2015/2016 academic year.
Read more >>
Serving LCCC Since 1973
The Lorain County Community College Foundation, a nonprofit organization, assembles and utilizes resources to support the mission and vision of LCCC. We enhance our community's quality of life by investing in key LCCC priorities that present the greatest impact and growth opportunities for the people of our community.