Faculty Excellence Awards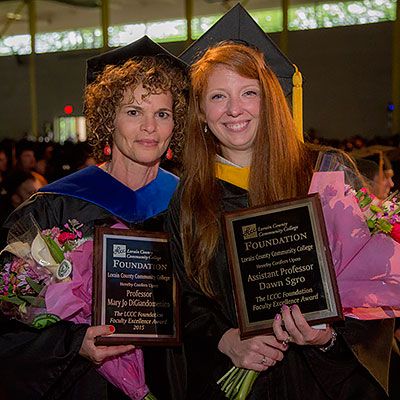 Unlike four-year residential campuses where students can make their education their main priority and pursue their academic goals without interruption, Community College students face a special set of challenges. They juggle family, work, marriages, homes, children and a number of other priorities. When they attend class here at Lorain County Community College, they are making a promise to themselves to make education a priority, even if they do not have the luxury of making it their only priority.
In turn, our faculty adapted and embraced creative teaching methods to be responsive to the needs of the community college students in their classrooms.
The Lorain County Community College Foundation is pleased to have the opportunity to highlight some of these outstanding faculty members through the Faculty Excellence Awards program. Each year, the Foundation awards $2,500 to two faculty members and $500 to adjunct faculty members who demonstrate ingenuity in classroom teaching, educational practices, and curriculum development, while also providing exemplary service to impact the college and the greater community. Faculty are nominated by students and the campus community and recognized at the College's annual Commencement ceremony.
Click on the videos below to learn more about some of our recent Faculty Excellence Award winners.